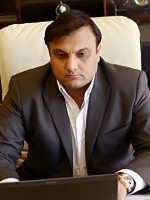 Dr. Kaiser Rafiq
Partner – Royal Emirates Group
United Arab Emirates
Oil & Energy
Current
1.    Mobile Square SMC Private Limited,
2.    Legal Consultant Services Private Limited,
3.    Options International SMC Private Limited
Previous
1.    Getafe CF (Team Dubai) Madrid, Spain,
2.    My Assetz,
3.    Asset Plus – DHA TV
Education
1.    NYU
ne of the most enterprising and visionary entrepreneurs with 15+ year's of increasingly progressive experience. Thorough understanding of the business based on hands-on know-how and ability to easily adapt to new and different environments. Achieved unparalleled success delivering record profits, revenues and market share, ancillary sales, training and employee development. As I rise to the goals I have set, I raise the bars.
Building productive teams and developing winning marketing campaigns is my passion. I have extensive experience developing and executing marketing strategies in heavily matrixed environments and am comfortable working with high net worth individuals and medium to large scale of companies.
I am accomplished in providing marketing program and channel analysis, communicating that analysis and developing future recommendations and business strategies for success.
Its a known saying "knowledge is contagious, spread the disease", and I have done my best by sharing knowledge through teaching as visiting faculty at various leading universities around the globe. I am a frequent speaker at International forums and conferences.
Specialties: Ideas Development, Research, Forecasting, Purchasing, Re-sale, Pre-launches, Investment Management, Oil and Energy Sourcing, Trading, Projects development and Projects Management.