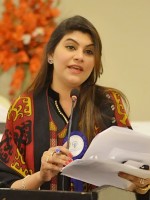 Dr. Nazish Faisal
She belongs to a noble family of Lahore, Pakistan. Her father belonged to a middle class family and she is married to a university lecturer in pharmacy department. She completed her early education from prestigious institutions of the country. While selecting professional studies, her compassion forced her to seek a career in health care and she chose to graduate  in pharmacy. She worked in marketing department of pharmaceutical industry due to her effective communication and social skills and led a successful career there. Due to studies of her husband, she had to move to USA where she took part in volunteer activities. Upon her arrival back to Pakistan, she felt the need to share her experience to new generation, she joined University of Lahore as lecturer where she taught hundreds of pharmacy graduates mentoring them to pursue a compassionate career in the treatment of suffering people around them. Her social and communication skills found a new way to help people with cancer as she joined Cancer Care Hospital and Research Centre. She wrote her thesis of M.Phil in Pharmacology and Toxicology, too during job.
Her exposure to patients in hospital, her experience to educate and death of her close family members with cancer created a perfect blend of motivation and skills to create awareness amongst masses. From platform of Cancer Care Hospital and Research Centre, she spread awareness to millions with the help of traditional marketing tools while accessed thousands through seminars, school visits, social media and public campaigns. She has led a great role during last four years in creating awareness amongst masses about cancer prevention. She has led a Pakistan's foremost and biggest campaign of cancer screening trials. She also helped in background in many cancer care hospital projects involving media handling, arranging lectures and conferences of oncologists like Prof. Dr. Shaharyar, Prof. Dr. Pamela Sutton and Pakistan's renowned oncologists. As member of Director Board of Cancer care hospital, she also had effective role in the construction of Cancer Care Hospital and research units. She has raised millions in funds to help this cause and has been main driving force in the project in generating funds. She never hesitated to go to public places to generate funds for this noble cause and collected pennies to millions.
Another success of Dr. Nazish Faisal comes through her organizational skills due to which she was able to conduct many successful events which resonated for long time in the city of 20 million residents and made cancer care hospital a well-known name amongst Pakistanis. Her strong interpersonal skills also created another success story where created biggest pool of young volunteers in the country and established f cancer care society. The youth led by Dr. Nazish Faisal volunteered their time and money selflessly for the noble cause of cancer prevention and provided help in cancer care projects. Along with these activities, Dr. Nazish Faisal is also working on her PhD thesis on breast cancer from prestigious public sector university.