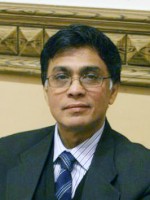 Dr. Riaz ur Rehman
Member
Board of Governors
Cancer Care Hospital & Research Centre
A Project of Cancer Research & Treatment Foundation
Dr. Riaz ur Rehman is a renowned Palliative Physician and Oncologist, who has worked in different countries and cultures. He is now working at Jinnah Hospital Lahore as a Senior Consultant in the Department of Radiation Oncology. Dr. Riaz ur Rehman graduated from King Edward Medical University in 1981. He has been in Oncology since 1988. He obtained a post graduate diploma DMRT in 1990 from the Post Graduate Medical Institute Lahore.
He served as an Assistant Professor in Oncology at the Fatimah Jinnah Medical College from 1993-1995, then again from 1998-2000.
He served the Ministry of Health Malaysia in Oncology, where he became a part of the team to set the first hospital based Palliative Care Unit in the Queen Elizabeth Hospital Malaysia. During this period, he was appointed in charge of the Oncology Unit where he was responsible to set up the day care chemotherapy unit, according to international standards, after visiting the different functional units in all over the Malaysia.
For all the hard work and dedication, he was selected by the Queen Elizabeth Hospital to be one of the recipients of a Rotary International Scholarship Program for the certification at the institute of Hospice Studies "The Daw House" in the Flinders University of South Australia. He was trained under the guidance of the world renowned Professor Ian Maddocks.
During his training in Australia, Dr.Riaz delivered talks at different forums on the issues of Palliative Care. After obtaining a certificate in Palliative care and Aged care from Flinders University, he continued to serve Queen Elizabeth Hospital Malaysia.
The Ministry of Health Malaysia declared the Palliative Care Unit at Queen Elizabeth Hospital as a "Role Model" for tertiary hospitals all over Malaysia. The unit was asked to run a training program for doctors/nurses /volunteers from all over Malaysia. Dr.Riaz was a member of the faculty running the training program.
Since his return, Dr. Riaz has been serving in the Jinnah Hospital Radiation Oncology Department, delivering Curative as well as Palliative Care Pain Management at Hospital Practice.
Dr. Riaz was recipient of a C.I.D.A (Canadian International Development Agency) Scholarship to present his work on "Delivery of Palliative Care /Hospice Care with the Integration of family Physician, A Malaysian Experience" at the family Physician Conference in the University of Calgary Canada, for which he was awarded the best paper award.
In 2001, Dr. Riaz conducted a project "the Delivery of Palliative Care with the help of Family Physician in and around Lahore".
Dr. Riaz has presented many scientific papers in National and International Conferences. Dr. Riaz has now volunteered to join the CCH&RC Project, as a challenge with the objective to set up the first hospital based Palliative Care Unit with a hospice at home program in the true sense and to run a training program for the doctors/nurses and volunteers in collaboration with Professor Pamela Sutton from U.S.A, a world Renowned W.H.O consultant on pain management.

Dr. Riaz is currently conducting a series of seminars on "Palliative Care" in different Medical Colleges and Universities. This has generated awareness for the need of teaching of Palliative Care discipline in undergraduates and postgraduate's curriculum. This has also generated a large number of volunteers who are willing to help in Palliative Care. These volunteer will be a link between the Palliative Care Physician and the patient. The First Hospital Based Palliative Care Unit is planned to open by December 2013.