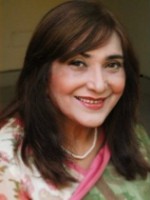 Farhat Perveen 
(Writer & Poetess) 
Director Art & Culture 
Cancer Care Hospital & Research Centre
Farhat Perveen is a celebrated author and humanitarian. Since her early 20's she has spent most of her life outside of Pakistan between Middle East, Europe and mostly America. Despite her geographic separation from her homeland, her devotion to her culture, language, literature, and her homeland Pakistan has been unwavering. Farhat has published 10 books to date that include short story anthologies, a novel, and a book of poetry. Early in her career Farhat was an educator, teaching literature in school and college in Pakistan and later in college in Middle East. She was also an adjunct professor of comparative literature at University of Rochester in the United States. She was a board member and head of publications for Pakistani Community Organizations for the cities she lived in while in America. Farhat Perveen and her husband Inam Khan founded Momi Center in the rural town of Bhakkar, a rehabilitative Center for mentally and physical disabled individuals by providing prosthetics, handicapped accessibility to residences, and therapy. The center was founded after the passing of their son Mohammed Khan who cared about the cause as a medical student. They also established ambulatory services in the area. Farhat founded a free medical and health services clinic outside Lahore entirely funded by her personal endowment. It was then that she was approached by Cancer Care Hospital & Research Center leaders and was introduced to their cause. Inspired by the cause and it's leadership, Farhat joined the Board of Governors and became an active team member. Farhat helped the foundation register in the United States as a 501-c-3 charitable organization as she is an American citizen. Farhat continues to support CCH & RC both in it's executive and policy decisions through her participation on the Board, and she has been active in fundraising efforts across Europe and America bringing substantial capital contributions to the cause consistently during her tenure at the organization.