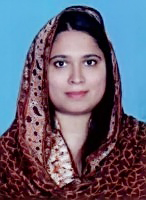 Mrs.‏ Tahia Noon
W-336
Assembly Tenure: 2013-till date (16th Assembly )
Member Profile
Position(s) Held
Member: Public Accounts Committee-II
Academic Qualifications
MA : Mental Moral Sciences (Dublin, Ireland)
Profession(s)
Agriculturist
Party Affiliation
Pakistan Muslim League (Nawaz)   (See other MPAs of this party)
 
Email
w336@pap.gov.pk
Father's/Husband's Name
Malik Adnan Hayat Noon
Marital Status
Married
Date of Birth
1973-05-20
Place of Birth
Karachi
Permanent Contact
Nurpur Noon, Tehsil Bhera, District Sargodha
Phone: 04235788469 (Res), 04235788471 (off), 04235788474 (Fax), 03324163570, 03452114222 (Mob)
Personal Career & Interests
Mrs Tahia Noon wife of Malik Adnan Hayat Noon was born on May 20, 1973 in Karachi. She obtained the degree of B.A (Hons) in 1996 and the degree of M.A (Mental & Moral Sciences) from Trinity College, Dublin Ireland. She has been elected as Member, Provincial Assembly of the Punjab in general elections 2013 against one of the seats reserved for women. She is serving various Governmental Committees/Boards/ Corporations including Public Accounts Committee-II; The Punjab Film Censorship Board; The Punjab Institute of Cardiology Board of Management; The Punjab Land Development Corporation; and The Punjab Tourism Development Corporation. She has extensively travelled abroad. She belongs to a renowned family of politicians. Her husband, remained Member of National Assembly during 1997-99; her grandfather, Sardar Aslam Khan Jalwana remained Member of National Assembly of Pakistan during 1965-69; grandfather of her husband, Malik Feroz Khan Noon served as Member, Punjab Legislative Council during 1921-23, 1924-26, 1927-30 (Minister for Local Self Government) and 1930-36 (Minister for Education); and as Member, Punjab Legislative Assembly during 1946-47. He also functioned as Governor of East Pakistan during 1950-53; as Chief Minister of Punjab during 1953-55; and as Prime Minister of Pakistan during 1957-58. Her uncle, Malik Nur Hayat Khan Noon remained Member of National Assembly of Pakistan during 1965-69 and again during 1977; he also functioned as Federal Minister during 1985.