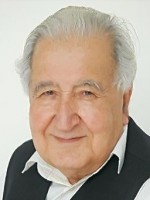 Shams ul Mulk
Ex Chief Minister of the NWFP, Former Chairman WAPDA
Born: N/A
Profession: Engineer
Affiliation(s): Water and Power Development Authority
Citizenship: Pakistani
Shams-ul-Mulk graduated in engineering in 1954 and joined the NWFP PWD (Irrigation Department) in Pakistan.
Joining Wapda
In 1959 he joined the WAPDA and became Member and Managing Director (Water) in that organization. He has been associated with most of the dam projects in Pakistan.
Served as
Chairman, Sarhad Development Authority, Peshawar (1976-1977),
Chief Engineer/General Manager, Tarbela Dam Project (1979-81)
Executive Director, Engineering and Consulting Associates, Nigeria Limited (1981-1987)
General Manager, Kalabagh Dam Project (1987-88).
Vice President of ICID from 1989-1992.
Chief Minister of the NWFP
Shams-ul-Mulk is not politician but appointed as caretaker chief minister of the North-West Frontier Province of Pakistan in duration between October 11, 2007 to March 30, 2008.