A. Existing Cancer Burden & Treatment Facilities
Cancer is second leading cause of death after heart disease. It is the only disease which causes a tremendous morbidity and pain in patients. It not only affects the individual but it also affects the whole family and the community and is associated with the social and economic disruption.Unfortunately, cancer incidence is rising in Pakistan and we are almost on the verge of an epidemic of liver and breast cancer. Around 3, 40,000 persons are afflicted with cancer every year, calculated @ of 170 cancers per year in a population of 100,000. Only 60,500 get adequate treatment as we lack facilities for diagnosis and treatment of cancer in Pakistan see Table I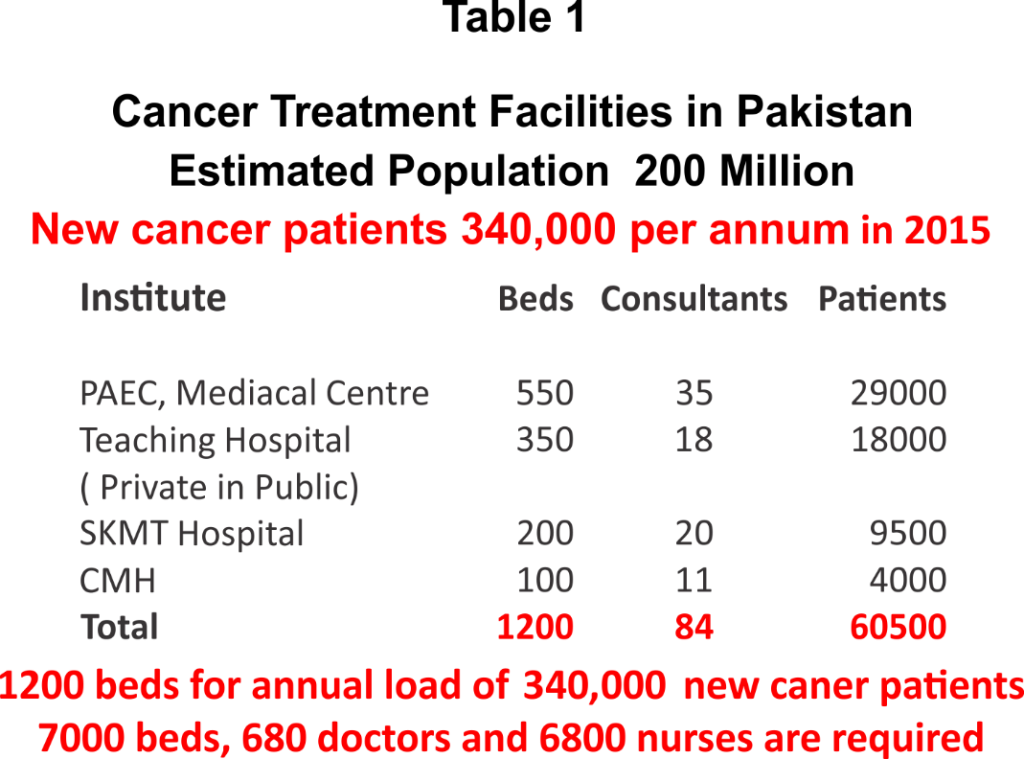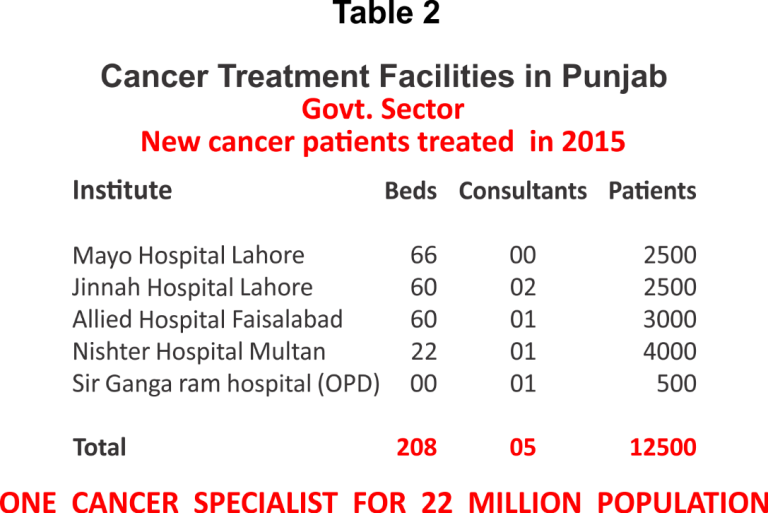 In Punjab alone 1, 85,640 new cases of cancer are added to the existing pool of cancer patients every year. Only 30,250 are reportedly treated in different cancer centers. There is only one dedicated cancer hospital for treatment of these patients, where 9500 patients are being treated annually. Additionally, 18500 patients are treated in four Federal Medical Centers of Pakistan Atomic Energy Commission& in five teaching hospitals of government of Punjab see Table 2.
Government of Punjab has only five qualified consultants / teachers in these teaching hospitals and there is no system of recruitment of new consultants / teachers, consequently the newly qualified specialists in the field leave the country for employment abroad. Federal Institutes of Pakistan Atomic Energy Commission also offer limited opportunities. Lack of employment opportunities in private sector is another factor responsible for this brain drain. So there are around a total 32 oncologists in the whole province with a small number of trained nurses and paramedical s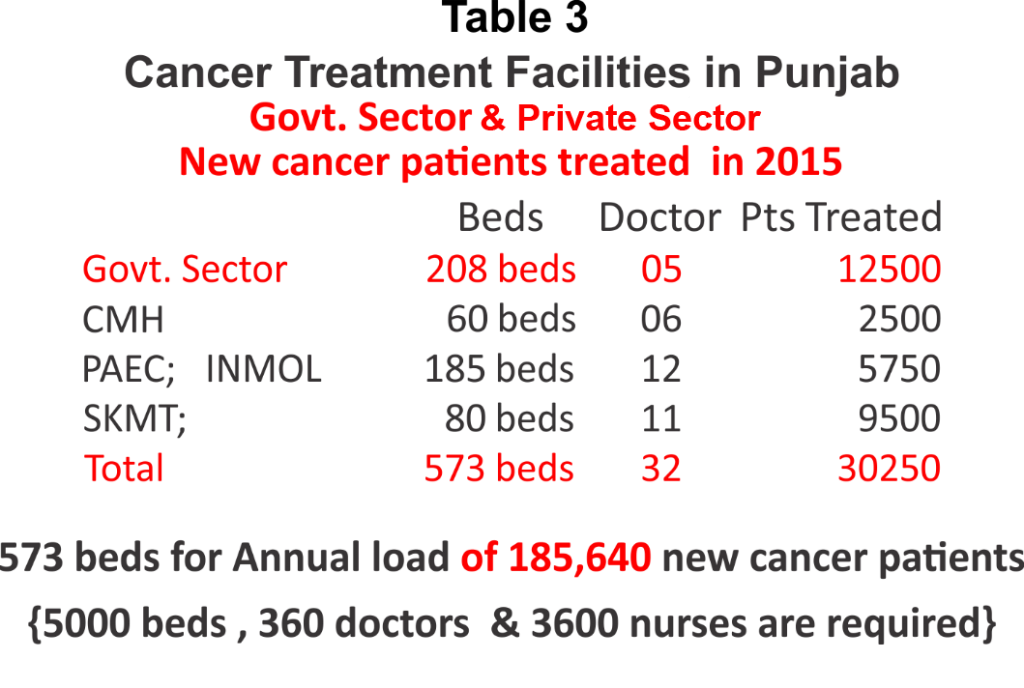 Consequently, in Punjab, majority of (150,000) cancer patients remain untreated. Even if only half of the untreated patients die the same year, 210 cancer patients die every day. However, untreated cancer is a uniformly fatal disease and nobody can survive without treatment, therefore, the daily death toll must be higher than this. A minimum of eleven dedicated cancer hospitals are required for an estimated population of 109,215,194 in Punjab. This would require additional 306 oncologist, 3600 trained nurses and around 5000 beds. This is a task which might take decades in its accomplishment.Some of very essential diagnostic and treatment facilities are strikingly lacking in our country and include lack of cancer screening program for breast cancer, cervical cancer and colorectal cancer and lack of Palliative Care Facilities for advanced cancer patients Under these circumstances Cancer Care Hospital & Research Centre Foundation (CCH&RCF) has accepted the challenge of providing facilities for diagnosis and treatment of cancer to the community. It has identified the unmet needs, settled its priorities and started the establishment of Cancer Care Hospital & Research Centre at Raiwind Lahore. This will not only serve as a tertiary care centre but will also work to provide trained human resource for establishing hospitals in other parts of the country. With goals clearly set to provide the palliative care first, the Institute of palliative care is being built on an emergency basis. A program of breast cancer screening has also been launched. Radiation treatment facilities and the completion 400 bedded cancer hospital will follow.
B. Needs of the Country for Cancer Control & more Cancer Hospitals
Dedicated cancer hospitals for treatment of cancer, training of specialists and research in cancer. At least one 200 bedded hospital for every 10 Million population is required. With these figures the province of Punjab will require eleven cancer hospitals and twenty hospitals will be required for the whole country.
Ancillary services including palliative care, hospice services and rehabilitation centers located in the community to assist and aid the dedicated tertiary care centers.
Cancer screening program for breast cancer, colo-rectal cancer and cervical cancer to reduce the morbidity and mortality from cancer.
Indigenous drug development program to provide anticancer drugs at an affordable price and save the billions of dollars spent on import of expensive anti-cancer drugs.
National cancer control program to develop and implement policies for cancer prevention, early detection, treatment and rehabilitation.
National cancer database to help in policy making, organizing and prioritizing the available resources.
Clinical practice guidelines to provide uniform treatment options across the country.